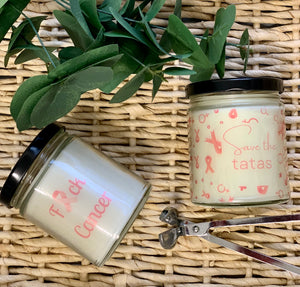 Per the National Breast Cancer Foundation, Inc, 1 in 8 women in the United States will be diagnosed with breast cancer in her lifetime. In honor of Breast Cancer Awareness Month, we will be donating $5.00 for each sale of our F*ck Cancer and Save the Tatas candles. 
You'll receive TWO 9-oz candles, one with each affirmation! One scented in Eucalyptus & Spearmint and the other in White Gardenia! 
Donations will help fund mammograms, educate the community and help reach women in underserved communities.